An award-winning, magnetic construction play system, Magna-Tiles teach spatial relationships, math, logic, and problem-solving through creative building. Featuring safe and unbreakable playing pieces, Magna-Tiles attract on all sides and in all combinations, helping children move from two-dimensional to three-dimensional creations. The secret to building with Magna-Tiles is each piece's unique ability to attract at the edges, even when they are flipped around. Various geometric shapes from soccer balls to towers can easily be created using Magna-Tiles. Magna-Tiles stimulate spatial problem-solving, logical thinking and pattern building skills in young children ages 3 years and up.
Other Magnetic Building Sets
Related Insights & Inspirations
Browse our Insights & Inspirations section for a variety of articles, tips, resources, strategies, and more.
Eight Ways to Use Magna-Tiles in the Classroom
A classroom favorite of both students and teachers, Magna-Tiles® serve as a great learning tool for children three years and up. The versatile magnetic tiles engage children in creative play and help them learn and practice a variety of skills and concepts. Whether you already have a set of Magna-Tiles® in your classroom or not, these tips on the various ways Magna-Tiles® can be used in the classroom will have you and your students wanting several sets! Read more.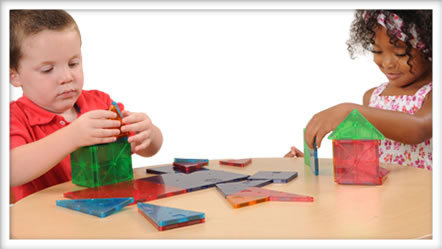 Blocks vs. Manipulatives: Is There A Difference?
You've probably heard someone make the argument that blocks can be considered a manipulative since they help children develop their fine motor skills. While that is a valid point, blocks should not be categorized as a manipulative. Blocks and manipulatives each serve a unique purpose in the classroom and present varying learning opportunities for children. One cannot replace the other, so it's important that you have both available for children to play with in your classroom. Read more.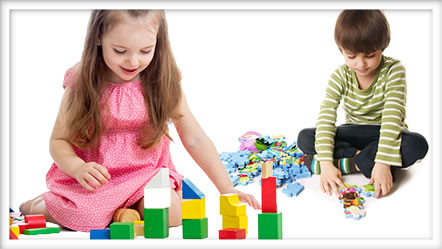 How to Set Up Your Preschool Math and Manipulatives Learning Center
Helping children develop their fine motor skills and increasing children's understanding of basic math concepts are both important goals in early care and education environments. Incorporating a math and manipulatives learning center in your preschool classroom will help you meet those goals while giving children the opportunity to improve their coordination, learn about counting and sorting, and expand their problem-solving skills. These hands-on learning opportunities will help children in their everyday lives and will prepare them to learn more advanced mathematical concepts in their future education. Read more.