Learning the Infant Toddler Way
By Clarissa Willis (as published in NCaeyc's Milestones magazine)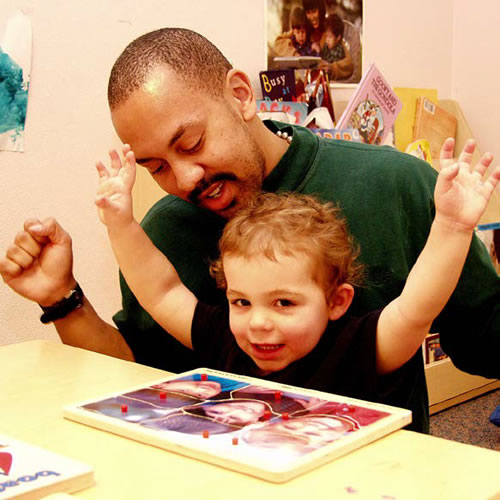 Two toddlers sit together enjoying a picture book, while three infants are busy pouring water into a sand and water table. Across the room a caregiver sings softly while gently rocking an infant to sleep. Quality programs include activities that engage infants and toddlers in brain based activities and reflect a philosophy of inclusion for all infants and toddlers.
By the time a child is 36 months old, she will have gone through three distinct stages: young infant, mobile infant, and toddler. Infant spaces should be home-like in nature. In other words, there are comfortable and stimulating places to learn, explore, and develop. It is also critically important that the care provider makes every effort to provide a welcoming and interactive environment for infants and their families. In addition, care providers should strive to create a bond with every baby that will make her feel loved, safe, and secure, in her new environment.
Most professionals avoid the word curriculum when speaking about infants, because a quality infant program is based on allowing infants to follow their own schedules. Developmentally appropriate infant schedules are individualized because each child has a unique internal clock. While there must be times during each day to eat, sleep, and play, those times will vary. A quality infant-toddler program meets the individual emotional, physical, and social needs of each child. Cognitive and physical development is stimulated through interaction with others and by exploring developmentally appropriate objects in the environment while social and emotional development is encouraged through interaction with caring, responsive adults.
To build a foundation for all future learning, infants and toddlers need opportunities to do the following:
Interact with responsive caregivers
Look, listen, and respond to what is going on around them
Explore their world with enthusiasm and wonder
Actively engage in daily routines and novel experiences
Reach milestones at their own pace
Develop social and emotional skills in a nurturing environment
With that in mind, let's examine the components of a quality program for infants and toddlers.
Snuggle time reinforces social and emotional development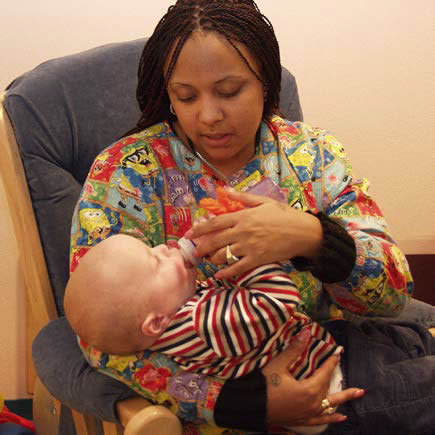 Social and emotional skills develop through intentional, nurturing caregiving in the early years. The sooner we infuse caregiving practices that grow and enhance these skills, the better chance we have of helping infants, toddlers, and their families develop resilience, an important component of social/emotional development because which involves the capacity to cope with changes and challenges. A hug, a snuggle, or sometimes just a pat on the back helps him feel secure, which in turn encourages him to trust people and explore relationships with others. This exploration and the subsequent development of relationships with others lead to his overall emotional development.
Emotional development refers to how a child feels about himself, the people in his life, and the environment in which he plays and lives. This develops through consistently positive interactions with his caregivers and his family. When an infant or a toddler is consistently and gently comforted by his caregiver, he learns that he is important and that his emotions are valid.
Opportunities for communication development – also build cognitive skills
Long before infants say their first words, they are busy learning to communicate with others in a variety of ways. For example, because infants are social by nature, they will gaze into the eyes of a caregiver, and will recognize the faces of the people they see most often. They constantly listen to the sounds around them, and quickly learn that by reaching out to interact, they will get the attention of adults. For this reason, it is critically important that adults respond consistently to a child's cries, as this reinforces her understanding of how to gain the attention of others. Soon, an infant begins to make cooing noises as she experiments with the sounds she can make. Before long, the infant is beginning to put syllables together, such as da-da-da or ba-ba-ba. Infants also use non-verbal communication such as pointing to an object. By pointing, perhaps she is communicating that she wants you to give her something, or maybe she is trying to tell you that she likes the way that object looks or feels.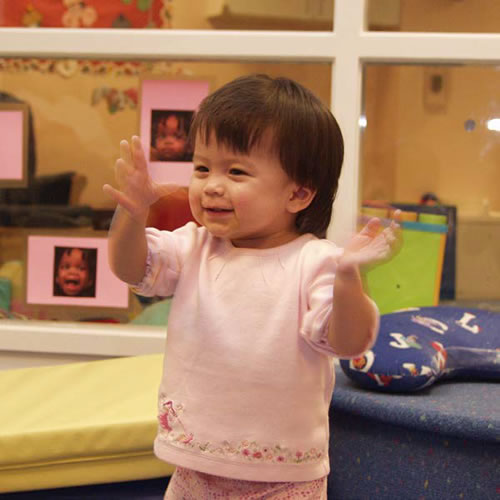 By 18 months of age, a child will have approximately 20 to 30 words in his vocabulary and may attempt to vocalize to music. Eventually, this leads to the child's knowing and using his own name, along with constant self-talk and subsequent attempts to communicate using two-word phrases. In addition, most toddlers this age use and understand the word no frequently. At two years of age, a child is expected to have at least 50 words in his vocabulary and to be using two and three-word phrases.
Between 24 and 36 months, if language development is progressing well, an explosion of new words will occur. The child's vocabulary should exceed 300 words, and he will be asking questions.
The following are a few ideas to help infants and toddlers to communicate
Respond to the infant's vocalizations, as this helps to form an understanding of reciprocity and turn-taking sequences with adults.
Talk about what you are doing. Remember that infants and toddlers understand far more than they can express verbally
Play games that encourage using language and sounds. Read, read, read! It is the most important thing an adult can do to build communication and cognitive skills in young children.
Well-defined spaces enhance learning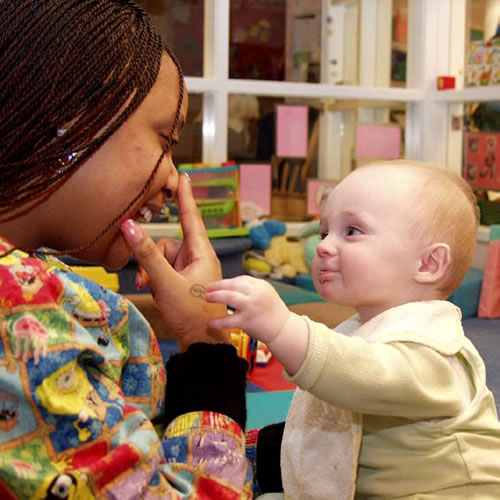 Infants and toddlers are naturally curious, and they have special ways of learning about the world and exploring their environment. Appropriate early experiences provide the base for knowing and understanding their world, and offer experiences that shape their early development. It is essential to design environments that match infants' and toddlers' ways of learning, and to allow them to influence the process. When designing learning spaces for infants organize items and materials together in one place. These learning spaces can be set up in the classroom, or they can be placed in colorful tubs and moved in and out of the area. Carefully selected toys, materials, and props should be responsive to infants and encourage them to influence their environment. In these learning areas, they will be able to see items, play with them, and continue to use them as long as they are interested. This method of organization enables the teacher to develop a classroom community that is both appropriate and interesting for infants. It also ensures that objects, movement, and experiences are included that positively affect all areas of development: cognitive, language, social-emotional, and motor.
The following areas are recommended for your young-infant classroom:
I Can Move!:

Spaces for crawling, rolling and wiggling arms and legs

Do you see what I see?:

Toys, books and materials that encourage the infant to visually explore, such as colorful board books, pictures of family members and of an infant-friendly mirror at floor level.

Touch:

Encourage tactile development by providing materials of different textures. (Don't forget to also incorporate some supervised water play activities into the mix.)

Listen:

Materials that make noise such as rattlers and bells.

Read to me:

Lots of board books with colorful pictures. Read to infants often!
Suggestions for older infant and toddler learning spaces might include all of the ones above and the following
Home Living:

Add child-size furniture, plastic food, a table and chairs and some play pots and pans to encourage young children to explore. Don't forget to include a few multi-cultural dolls and a child-sized 'cooking utensils'.

By Myself:

A quiet place where a child can go to relax. Furnish this center with soft pillows, soft music and indirect lighting if possible.

Music:

Put out some musical cymbals, bells, and other appropriate 'noise makers' and encourage children to play music. Also include opportunities to hear music with many different beats and from various cultures.

Dramatic Play:

Find hats of all varieties, appropriate dress-up clothes and colorful scarves. Encourage children to dress-up, put on some music and have a parade in your classroom.

Library:

A library center for toddlers should include a toddler-size sofa, and many colorful books both fiction and non-fiction for children to explore
Time to sing and listen to music
Music is a universal language and singing builds brain connections and enhances learning. What's even more important is that children don't care if you can sing or not-- they enjoy it anyway! Introduce infants and toddlers to all types of music from soft lullabies to reggae. Even infants enjoy being held in your arms while you sway, dance, or bounce to a beat. Don't be afraid to experiment with music, and while there is plenty of children's music available for download, young children also enjoy the opportunity to sing along with you. Encourage toddlers and mobile infants to cross the midline of their bodies with their hands while they dance; you are not only building brain cells through music you are also building them through movement.
Connect with families
Daily reports designed to provide families with written documentation of each infant's feeding, diapering, and exploration time-keeps the family connected and involved in the child's daily routine. Build rapport with families by communicating often and by providing opportunities for them to be involved in activities at school. Ongoing assessments, such as portfolios and documentation panels, provide multiple opportunities for authentic assessment and progress monitoring and they provide additional opportunities for families to learn more about what their infant or toddler is learning every day.
Remember to Play!
Make sure that attractive, attention-getting elements are part of the infant and toddler playtime environment. Provide toys such as unbreakable mirrors, blocks, and items of different textures. Play is the primary way that infants learn how to communicate, move, socialize, and understand the world in which they live. Play impacts all aspects of learning, brain development and growth. It builds motor skills, develops communication, and encourages social emotional growth. So be sure to provide opportunities for infants and toddlers to play, and don't forget to join in the fun. Enjoying playful moments with young children can be just as beneficial for adults as well as for children.
Resources for Teachers Working with Infants, Toddlers and Twos:
Carione, Karen & Bruce, Nefertiti. (2011). Socially Strong Emotionally Secure (50 Activities to Promote Resilience in Young Children). Lewisville, NC: Gryphon House, Inc.
Isbell, Rebecca & Isbell, Christy. (2003). Complete Learning Spaces Book for Infants and Toddlers. Beltsville, MD: Gryphon House, Inc.
Johnson, John A. (2010). Babies in the Rain Promoting Play, Exploration, and Discovery with Infants and Toddlers. St. Paul, MN: Redleaf Press.
Karnopp, Jennifer. (2011). Focus on Toddlers: How-tos and What-to-Dos when Caring for Toddlers and Twos. Lewisville, NC: Gryphon House Publishing, Inc.
Kohl, Mary A. (2012). First Art For Toddlers and Twos Open Ended Experiences (Revised). Lewisville, NC: Gryphon House, Inc.
Schiller, Pam. (2012). Start Smart: Building Brain Power in the Early Years, Revised. Lewisville, NC: Gryphon House, Inc.
Silberg, Jackie. (2008). Baby Smarts. Beltsville, MD: Gryphon House, Inc.
Willis, C. (2009). Teaching Infants and Twos with Special Needs. Beltsville, MD: Gryphon House, Inc.
Clarissa Willis, PhD is an Associate Professor of Teacher Education at the University of Southern Indiana. Her publications include the award winning books Teaching Young Children with Autism Spectrum Disorder, My Child has Autism, and Teaching Infants Toddlers and Twos with Special Needs (Gryphon House). She co-authored Inclusive Literacy Lessons with Dr. Pam Schiller. She is also the author of Inclusive Environments for Young Children-What to do on Monday Morning! (Corwin Press). Her articles have appeared in journals such as Young Children, Childcare Information Exchange, and Dimensions of Early Childhood and Teaching Exceptional Children. In 2012, Clarissa was senior author of the new comprehensive curriculum Learn Every Day.