A Favorite Shopping Spot of Parents & Teachers
Find many of the products featured in our catalogs and on our website, as well as thousands of additional products selected to meet the needs of educators serving children from infancy to 8th grade in our Education Megastore. Order and pick up products or browse our selection of bulletin board materials, workbooks, arts and crafts supplies, storybooks, music, and much more. Located just west of Winston-Salem in Lewisville, North Carolina, our Education Megastore is a convenient one-stop resource for all your early childhood needs and is a quick drive from Greensboro, Raleigh, and Charlotte. From designing bulletin boards to selecting curriculum resources, our knowledgeable staff is ready to assist you. If you have a special request, be sure to ask!
Discover Products and Resources for Various Grades and Age Groups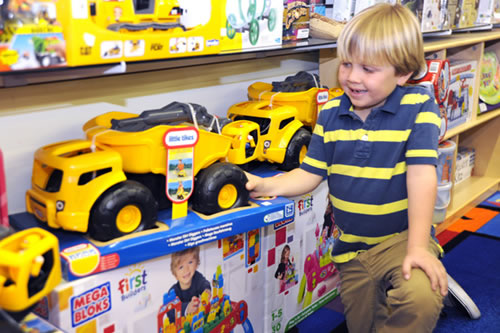 Discover Products and Resources for Various Grades and Age Groups
We offer a variety of products for infants, toddlers, preschoolers, and elementary-age students. Math, science, English, and social studies products for children in middle school grades are also available. During your visit to the store, be sure to check out our variety of educational toys, such as LEGO® and DUPLO® products, board games, puzzles, and much more.
Get Organized and Stock Up on Everyday Classroom Items
You can purchase a variety of organization tools at our Education Megastore. Whether you're looking for record and plan books, classroom charts, or desk supplies, we can help you make your classroom learning environment more organized and effective. We offer a variety of everyday classroom items at budget-friendly prices to accommodate every price point.
Acquire Teaching Materials and Tools for Your Classroom
We offer a variety of curriculum resources, activity books, and resource books for teachers to use in the classroom. We have products and resources that correlate with Common Core Standards and a selection of Spanish-learning items. If you're looking for bulletin board materials or supplies for arts and crafts, we have a vast selection for you to choose from in the Education Megastore.
Find the Perfect Gift
Browse our selection of blocks, music, games, puzzles, and other items to find the perfect gift for your children or the children in your care. Gift certificates are available for purchase in our Education Megastore and would be a great gift for any of the teachers on your shopping list.
Place Your Orders in the Education Megastore
If you see something you would like to purchase on our website or in any of our catalogs, you're welcome to stop by our store and place an order.