Illinois Preschool for All Children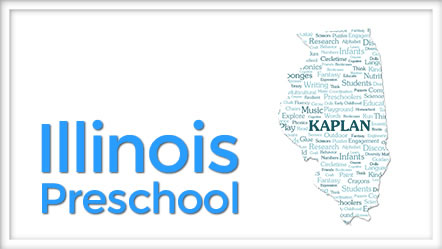 Kaplan is proud to extend its long-standing commitment to Illinois' early childhood teachers, caregivers, parents and children through its support of the Illinois Preschool for All Children programs. For 40 years, Kaplan has worked in close partnership with the Illinois early childhood preschool community to support the vision and creation of a quality learning environment for children and families. This website is designed to continue that tradition of support. At the click of a button, Illinois preschool programs can access the information and resources to enhance the Illinois Learning Standards and Benchmarks.
Illinois' Preschool for All Children program is a wonderful way to support our children's future success. Working together, early childhood teachers, caregivers and parents can ensure that children are ready for a great upcoming kindergarten year. Kaplan is committed to being part of your success story and has worked hard to develop and provide resources for school districts, private providers, parents and children that will be the foundation of many successful educational programs.
Kaplan Model Classroom

Illinois Benchmarks

Curriculum Correlations and Resources

Interagency Partners for Illinois Preschool for All Children

Professional Associations

Additional Resources

Accrediting Bodies

Some of the preceding links are external to Kaplan Early Learning Company's web site. Kaplan Early Learning Company cannot attest to the accuracy of information provided by these sites. Linking to a web site does not constitute an endorsement by Kaplan Early Learning Company, or its employees, of the sponsors of the site or the products presented on the site.

Mouse over an area to see your sales representive.