Professional Development
As an early childhood professional, you know there's no substitute for the knowledge and skills that enable you to do your job well. Whatever your experience level, Kaplan is dedicated to supporting your professional growth with training, consulting, and workshops.
Kaplan Professional Development Program empowers you to customize your own training programs as part of a comprehensive professional growth and enhancement plan for you and your staff.
Request Customized Training
Become a Trainer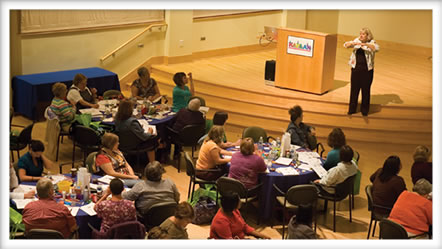 Cathy Cole

Cathy is a highly-accomplished professional early childhood consultant with over 30 years of experience in the field of Early Care and Education. She began her career as a preschool teacher and had the opportunity to work with infants, toddlers, and school-age children in private programs and in Head Start, Migrant Head Start, and California State Preschool programs. Cathy became a Head Start Delegate Director, a Head Start Grantee Interim Director, a National Head Start Consultant, and a Head Start Federal Reviewer. She is a certified facilitator for Dr. Stephen Covey's 7 Habits of Highly Effective People and 4 Roles of Leadership. Cathy has also attended several trainings on the CLASS, and currently works with individual programs providing training and technical assistance to both teaching and administrative staff to help them understand the CLASS domains, dimensions, and behavioral markers, as well as how to use the CLASS to improve learning environments. She is a member of the Oregon Association for the Education of Young Children and lives in Riddle, OR.

Christy Isbell

Christy Isbell, Ph.D., OTR/L, is an associate professor for the Occupational Therapy program at Milligan College in Tennessee. She is the co-author of The Inclusive Learning Center Book for Preschool Children with Special Needs, Sensory Integration: A Guide for Preschool Teachers, and The Complete Learning Spaces Book for Infants and Toddlers, and the author of Everyday Play and Mighty Fine Motor Fun. She also contributed to Kaplan's Learn Every Day: The Infant and Toddler Program curricula and its foundations guide. Christy practices occupational therapy in early intervention, child care, and school settings. She trains on a variety of topics, including fine motor skills, sensory integration, and learning environments for children with Autism Spectrum Disorder and special needs. Since beginning her career, she has presented 9 workshops and trainings at the NAEYC Annual Conference, as well as at many other national and state-wide conferences. Christy is a member of the American Occupational Therapy Association, the Tennessee Occupational Therapy Association, and NAEYC. She lives in Johnson City, TN.

Clarissa Willis

Clarissa Willis, Ph.D., has worked for the past 20 years on behalf of children with special needs and their families. She is the author of five books, including the award-winning titles Teaching Young Children with Autism Spectrum Disorder, Inclusive Literacy Lessons, and Teaching Infants and Toddlers with Special Needs. Formerly the Associate Director of the Center of Excellence in Early Childhood Learning and Development at East Tennessee State University, she currently works as an early childhood consultant. Her training workshops include inclusive environments, autism, infants and toddlers with special needs, and behavioral management.

Devereux Early Childhood Initiative

Devereux Early Childhood Initiative creates working partnerships among early childhood educators, mental health professionals, and families to promote young children's social and emotional development, foster resilience, and build the skills for school success. The Devereux Early Childhood Initiative provides professional development on its social and emotional assessment and screening tools for infants/toddlers (DECA-I/T), preschoolers (DECA), and school-age children (DESSA).

Environment Rating Scale Institute (ERSI)

Environment Rating Scale Institute (ERSI) consists of more than 200 researchers, students, and staff working on projects dealing with parent and family support; early care and education; child health and development; early identification and intervention; equity, access and inclusion; and early childhood policy. They provide training on their environment rating scales: ECERS-R, ITERS-R, FCERSR, and SACERS.

Jackie Silberg

Jackie Silberg (also known as Miss Jackie) is a highly sought after workshop-seminar leader, motivational speaker, and performer. She is also the author of many books on babies' brain development, including Baby Smarts and Games to Play with Babies. With degrees in Education and Child Development, along with graduate work in Piano and Composition, she is known for her entertaining in-service workshops, keynote addresses, and seminars. Jackie provides workshops on such topics as learning games for infants, nursery rhymes, music, and early literacy.

Jana Crosby

Jana Crosby, M.Ed., is an independent early literacy and early childhood consultant and a trainer for Kaplan Early Learning Company, specializing in literacy training for the Frog Street Press Pre-K Curriculum, the Nemours BrightStart! Curriculum, and other early literacy topics. She is also an Early Literacy Volunteer and Consultant for the International Reading Association. Jana is a member of NAEYC, the Tennessee Association for the Education of Young Children, the Southern Early Childhood Association, the International Reading Association, and an advisory board member of the Middle Tennessee Reading Association, among others. She is the co-author for Kaplan's Learn Every Day: Building Strong Foundations for Infants, Toddlers, and Twos guide for the Learn Every Day Infant and Toddler Program, a contributing author for the Learn Every Day Preschool Curriculum, and the author of the Kids Peak literacy curriculum for IRA. She presents at conferences in the southeast and has traveled internationally to train teachers in early literacy and project development in Singapore. Jana lives in Nashville, TN.

Karen Nemeth

Karen Nemeth is the author of Many Languages, One Classroom; Many Languages, Building Connections; and co-author of Digital Decisions. She earned her M.Ed. in Learning, Cognition and Development from Rutgers University and has been a teacher and a teacher educator for more than 25 years. She presents at national, state, and local conferences on topics related to first and second language development. She is on the executive board of New Jersey Teachers of English to Speakers of Other Languages/New Jersey Bilingual Educators and is co-coordinator of the Early Childhood Special Interest Group. Currently, she teaches at Bucks County Community College in Newtown, Pennsylvania.

Keith Pentz

Keith L. Pentz, National Early Childhood Specialist for Kaplan Early Learning Company, has been in the field of education for more than 30 years. Keith began his career by working in childcare with infants and toddlers, taught elementary students as well as Kindergarten, and then taught PreKindergarten. Following his experiences in the classroom, Keith moved on to teach at the University of Central Florida in Orlando, Florida, and he also was an Assistant Professor of Early Childhood Education at Gordon College in Wenham, Massachusetts, before beginning his career as a consultant.

Kimberly Johnson

Kimberly Johnson is an award-winning children's author and educator. She has written twelve books and was invited to serve as the guest reader at the 2002 Easter Egg Roll at the White House. Kimberly visits schools throughout the U.S. speaking to children and adults about literacy and writing. She conducts staff development workshops on how to motivate children in the classroom. She also teaches creative writing to elementary and middle school students. Kimberly has a B.A. in Communications Studies and a M.Ed. in Youth Development and Leadership.

Laura Beaver and Jill Nolen

Laura Beaver and Jill Nolen, natives of North Carolina, have a combined 35 years of experience in education as regular classroom teachers, reading teachers for struggling and gifted students, and parent involvement coordinators. In 2004, they published Into the Tub, a children's book that includes research-based reading strategies for parents to use during story time.

They now spend their time developing products for schools to use as part of their parent involvement initiative, conducting staff developments across the nation and inspiring educators to become better partners with their parents.

Their vision of parent involvement is much more than simply having a school full of parents: it is also about making sure that all parents walk away from the school empowered to better support their children academically. Beaver's and Nolen's passion is contagious and continually leads educators to view parent involvement in a whole new light.

Mary Jo Huff

Mary Jo Huff is an award-winning author, early childhood educator, professional storyteller, and recording artist best known for fun and enchanting interactive workshops on storytelling, puppets, and music. She is the author of six publications for early childhood educators, and her CD recordings include Storytelling for Kids, Chicken Fun!, and Peeper Pizzaazzz!

MaryAnn F. Kohl

MaryAnn F. Kohl is the award-winning author of more than 15 books based on her "It's the Process, Not the Product" philosophy. Her books provide open-ended art activities for young children, focusing on the experience of art, not the final product a child creates. MaryAnn consults for Fisher-Price, and she also works with SUNY-Albany as one of their expert guests for numerous educational video conferences. She conducts workshops that explore teaching art to children, using art as a tool to promote children's self-esteem, teaching literacy through art, and fostering creativity in young children.

Nefertiti K. Bruce

Nefertiti K. Bruce, M.Ed., is an early childhood specialist and master certified trainer for the Devereux Early Childhood Initiative. She is dedicated to educating parents, teachers, and administrators on the importance of paying attention to how children feel, and how social and emotional development relates to academic performance. Nefertiti has worked as a preschool and kindergarten teacher; she is an accomplished author and has provided professional development, coaching, and mentoring to thousands of teachers, administrators, and parents across the country. Nefertiti loves life and has said on many occasions, "I have found my 'occupassion' in the work that I do for children and families."

Nemours

Nemours is one of the nation's leading pediatric health systems, dedicated to advancing higher standards in children's health. Affiliated with respected community and academic partners, Nemours cares directly for 250,000 children annually.

Pam Schiller

Pam Schiller, Ph.D., is a curriculum specialist and an early childhood consultant and author. She has co-authored six curriculums for early childhood, including the DLM Early Childhood Express (a full curriculum for four-year-olds), the DLM Early Childhood Program (a full curriculum for kindergarten), and the Early Impressions: Smart Start Edition (a full curriculum for infants and toddlers). She has also published over 30 teacher resource books and over 20 children's books. Currently, she is a board member for the Nobel Learning Communities Advisory Board and the Children's Courtyard Advisory Board, and has previously been the President of the Southern Early Childhood Association, the President-Treasurer of the Texas Association for the Education of Young Children, and the President of the Gulf Coast Association for the Education of Young Children. She enjoys customizing workshops around such topics as early literacy, infant and toddler environments, brain development, brain-compatible instruction, multiple intelligences, and curriculum development. Pam lives in Cypress, TX.

Pamela Phelps

Pamela Phelps is the creator of the Creative Pre-School Model Program, and author of Let's Build and the Beyond Cribs and Rattles and Beyond Centers and Circle Time curricula. She is a past chair of the State of Florida's Coordinating Council for Early Childhood Services and a past member of The Florida Interagency Council for Infants and Toddlers. She has published articles in professional early childhood and special education journals; directed research in early childhood settings; and regularly conducts workshops for educators and parents on play and play environments, behavior management, and numerous other topics related to young children.

Rae Pica

Rae Pica has been a children's movement specialist since 1980. She is the founder and director of Moving & Learning, a company offering services and materials related to physical activity for children from birth to age eight. Rae is also a co-founder of the BAM Radio Network, the largest education radio network in the world offering programming from the nation's top education organizations and thought leaders. A popular speaker and workshop leader, she has consulted for Nickelodeon's Blues Clues, the Sesame Street Research Department, the Head Start Bureau, and several others. The author of the Learning in Leaps and Bounds series, she conducts trainings on the importance of physical fitness for young children, learning through activity, and rhythm and rhyme. She lives in Alexandria, VA.

Rebecca Isbell

Rebecca Isbell, Ph.D., is Director of the Center of Excellence in Early Childhood Learning and Development and a professor of Early Childhood Education at East Tennessee State University. She is the co-author of The Inclusive Learning Center Book For Preschool Children with Special Needs, Sensory Integration: A Guide for Preschool Teachers, and The Complete Learning Spaces Book for Infants and Toddlers. She is a frequent keynote speaker and trainer on a wide range of topics, including learning environments, learning centers, literacy development, music/art and drama, creative thinking, and infants/toddlers.

Rhonda Clark

Rhonda Clark, M.Ed., is currently the Director of Academic Services for Kaplan Early Learning Company. Previously, Rhonda held the position of Principal Early Childhood Consultant for the Illinois State Board of Education from April 2008 until September 2013. While there, she developed a statewide professional development system for state-funded Preschool for All programs; worked with state agencies to provide professional development for state-funded preschool programs, child care (center-based and home settings), and Head Start/Early Head Start programs; and directed the development and alignment of the Early Learning and Development Standards with the K-12 Common Core Standards in 2012. She has written and received grants for districts and local centers totaling to over $800,000 to serve over 250 children. Rhonda has also served on multiple committees, such as the Steering Committee for the Professional Development Advisory Council and the TQRIS Ad Hoc Committee for the Illinois Early Learning Council. Rhonda lives in Springfield, IL.

Sharon MacDonald

Sharon MacDonald, M.Ed., has been training teachers throughout the United States for more than 20 years. Her training workshops and presentations focus on a variety of early childhood topics based on her years of classroom experience. Sharon has taught ages ranging from three-year-olds to adults. In addition, she has worked on an inclusion program for children with disabilities. She is a frequent keynote speaker and workshop presenter at early childhood education conferences and has written several books, including Sanity Savers, Block Play, and Math in Minutes.

Susan Peele

Susan H. Peele, M.Ed., is a retired public school administrator with over 40 years of experience teaching and coordinating programs for young children in North Carolina. She is trained on a variety of early childhood curriculum assessments and program development, and she has served on a number of state-level committees to develop guidelines and publications addressing early childhood issues, best practice guides for children with and without disabilities, and state-level preschool standards. Currently, Susan provides consultation and professional development sessions locally, state-wide, and nationally, for school districts, Head Start agencies, and private and public child care programs. She has worked for the North Carolina Office of Early Learning Programs, the Smart Start program, and Child Care Resource and Referral. She is the president of Educational Strategies, Inc., and has been a trainer and consultant for Kaplan Early Learning Company since 2002. She teaches classes at East Carolina University and resides in Frisco, NC.

Thomas Chiaromonte

Thomas A. Chiaromonte, Ph.D., is an experienced early childhood presenter and a member of the National Association for the Education of Young Children. Currently, he is the Director of the Child Development Laboratory School at Fullerton College in California, where he has taught since 1989. He has presented at the NAEYC Annual Conference 19 times since 1991, with topics such as natural environments, community partnerships in a lab school setting, educator burnout, transitioning early childhood programs, the evolving role of lab schools, and parent involvement. His publications include articles in Parenting, Children and Families, Redbook, the National Association of Laboratory Schools Journal, and reports for the U.S. Department of Education, and he is a reviewer for the Journal of Early Childhood Teacher Education. Thomas lives in California.

Thomas Moore

Thomas Moore, Ph. D., is nationally recognized as an early childhood consultant, keynote speaker, workshop leader, and children's recording artist. He has given more than 800 speeches and workshops in the United States and abroad. A columnist for Children and Families, he is also the co-author of three books of songs and activities for children.

William DeMeo

William J. DeMeo, Ph.D., is a developmental psychologist who serves as a consultant for the Mayerson Academy. He also has a private practice that specializes in serving children and families in the Greater Cincinnati area, where he previously coordinated the mental health services for Cincinnati Public Schools' Early Childhood Program for 25 years. He is a nationally-certified Olweus Trainer, a National Association of School Psychologists-Approved Trainer, and a national consultant for the Office of Juvenile Justice Delinquency Prevention. In addition to presenting at numerous conferences and workshops for administrators, mental health professionals, and educators, he has also presented workshops and symposia for early childhood professionals at the National Head Start (NHS) Association, National Association for the Education of Young Children (NAEYC), the Society for Developmental Education (SDE), and the Association for Childhood Education International (ACEI) conferences. William continues to be one of the most sought-after national and international trainers for educators in the areas of challenging behavior, mental health, and brain-based learning. He has also authored several books, including his latest from Gryphon House: When Nothing Else Works: What Early Childhood Professionals Can Do to Reduce Challenging Behaviors. William lives in Cincinnati, OH.

Learn from Leading Early Childhood Experts

Our professional development consultants are leading early childhood experts who can help you:

Assess environments and curriculum
Observe and mentor teaching staff
Choose a curriculum and appropriate assessment tools
Develop a training plan for the staff of a new child care agency
Assess and plan for the training and professional development of experienced staff

Available year-round, our consultants work with programs that have as few as five teachers and administrators to as many as 500 staff members. They are available to work on both short and long range planning projects, from a single on-site visit to a series of visits spanning several months. Offering a wealth of practical experience and knowledge, they will motivate and excite you and your staff.




Turn-key Curriculum & Assessment Consultation/Training

As your program strives to meet the instructional goals of national/state/local performance standards, we can design training programs that will help you:

Select a curriculum that aligns with your program's designated performance standards
Develop an implementation and training plan for the curriculum you select
Select assessment instruments that meet the standards designated for your program and fulfill the instructional needs of the children in your care
Show your staff how to administer and effectively interpret your assessment instruments

We also offer complete implementation packages based on:

Program Needs Assessment
Implementation Planning
Staff Orientation and Overview
Administrator Training
Staff Training (first year and subsequent years)
On-Site Consultation Visits
Planning adjustments and modifications
Implementation Evaluation

Professional development is available to support high quality developmentally appropriate infant toddler programs in the following areas:

Interactions and Connections to support Learning and Development
Activities and games to support learning and development
Using Assessment for planning
Classroom Management

Relationships in the Infant Toddler years are critical. Developing attachments to the special people in their lives is essential to their growth and development. We are here to assist you in providing your staff with training in these essential areas through the following

Featured Topics

Connecting Infant and Toddler Mental Health with Cognitive and Physical Development

Mental health factors of the very young child play an important part in cognitive and physical development. How a child perceives and interacts with caregivers—be they parents, teachers, or other adults in the child's life—can determine how a child will further function and participate in society.

Games, Routines, Activities, and Play that Stimulates Infant and Toddler Brain Development

There is a wealth of excellent games, activities, and routines to properly stimulate and enhance infant and toddler brain development. By examining the relationship of what the brain is capable of doing with the right kind and type of stimulation, the potential exists to optimize the learning of any young child.

Interactions and Relationships: Making Connections that Change Lives

The importance and influence of interpersonal connections on all aspects of development begins even before birth. From the earliest experiences of emotions, gazes, touches, language, nurture, and relational attachment, our bodies, brains, and minds begin to form who we are as individuals. Each interaction—each event—each opportunity—each engagement—profoundly impacts all of us personally and collectively. The society of tomorrow is being determined by the relationships created and established today.

The Environment as a Third Teacher

Physical classroom set-up is critical, however, there are other considerations in the optimal learning environment to be made related to color, lighting, materials, choices, and various types of sensory stimulation.

Professional development is available to support high quality developmentally appropriate preschool programs in the following areas:

Curriculum Implementation
Classroom management
Using assessment for planning
STEM for preschool

Featured Topics

Curriculum Implementation

When implemented properly, early childhood curriculum should be thoughtfully planned, challenging, engaging, culturally, linguistically, and developmentally appropriate and should be comprehensive across all domains of learning. Strategies and tips on ways to ensure that you are meeting the goals of your curriculum are provided. Meeting the goals of your curriculum promotes positive outcomes for children.

Intentional Teaching

Intentional teachers facilitate learning with a goal in mind. This goal includes a purpose, a plan for implementation and a plan for evaluating progress of their goals. This workshop is designed to provide participants with information and resources to implement intentional teaching strategies effectively. Participants will discuss the elements of intentional teaching throughout the day and will develop a plan to implement strategies within their own classrooms to meet their goals.

Developing an Effective Learning Environment for Young Children

Developing an effective learning environment is not just about organizing the space and materials; it is also about implementing the daily schedule and routines so children know what to expect. This creates a sense of classroom community which will enable the children to develop an understanding that we are all in this together – we care for each other and our classroom. This workshop provides participants with information and resources to develop a learning environment where children feel comfortable, safe and are able to become independent, effective learners.

First Steps to Authentic Assessment

The first step to Authentic Assessment is learning how to effectively observe and document children's learning. Participants will discuss the barriers and solutions to effective observation styles. Learn strategies' and tools for collecting and organizing your observations, identify methods of observation that will work best for you and explore ways to decide what and when to observe.

Using Assessment to Ensure Program Quality

Authentic Assessment is tied to children's daily activities. It allows teachers to make sound decisions about teaching and learning, and it can identify significant concerns that may require focused intervention. Participants will engage in the process of Authentic Assessment and experience how it allows teachers to set goals for students, evaluate those goals and make sounds decisions about teaching and learning.

Fostering Mathematical Thinking and Conversation

Teachers who are intimidated by mathematics will find this session informative, and inspiring. They will gain a better understanding of constructivism, child development, and the theoretical rational for the use of manipulatives and games in teaching math. Come explore activities that foster number sense and the development of concepts needed for computation and literacy. Learn to ask questions that promote, challenge and extend student's thinking, and reasoning skills. Discuss and apply activities and strategies that align with the Early Learning standards and are based on the joint position statement of NAEYC/ NCTM.

Going Beyond Behavior Management: Prevention vs. Intervention

Ever wonder why some classrooms just seem to run very smoothly while others are spaces of out-of-control students and teachers? Learn how to make your classroom a pleasant, upbeat, friendly, and academically sound environment—a place where learning takes place and success is the rule.

Professional development is available to support high quality afterschool programming and

Family Engagement
Differentiated Instruction
Project Based Learning
Common Core

Featured Topics

Authentic Assessment

Standardized testing or assessing an isolated fact or skill does not effectively measure student understanding. To accurately evaluate student understanding, an assessment method must provide the opportunity for the student to adequately demonstrate what he or she knows as well as examine his or her collective abilities. Authentic assessment presents students with real-world challenges that require them to both apply and demonstrate their relevant skills and knowledge.

This professional development workshop provides teachers with practical assessment strategies that acknowledge diverse learning styles and abilities as well as rigorous Common Core Standards as participants explore the principles and goals of authentic assessment.

Common Core State Standards: Building the Dream Team

The Common Core State Standards Initiative is a state-led effort coordinated by the National Governors Association Center for Best Practices (NGA Center) and the Council of Chief State School Officers (CCSSO). The standards were designed to equip all students with the knowledge and skills in English Language Arts and Mathematics to be college and career ready.

This professional development workshop provides an overview of the criteria and development of the Common Core Standards for English/Language Arts and Mathematics and clarifies what the new standards mean for teachers, parents, and students. Participants will also define and explore the five key shifts that should be happening in every classroom.

Differentiated Instruction: Because One Size Does Not Fit All

Differentiated instruction is both a philosophy and a teaching method that respects the needs of the students while keeping the learning objectives in mind. It is not about diluting the curriculum or letting students decide what to learn. It is about building on a high-quality curriculum, defining the expected learning outcomes for all students, and ultimately incorporating effective strategies to ensure that every student is successful.

This workshop provides sound pedagogical principles of differentiated instruction, as well as planning, management, and assessment strategies that enable teachers to meet the diverse needs of all students.

Empowering Parents through Effective Parent Trainings

Walk away with a parent training model that can be easily implemented into existing parent involvement events such as PTO, kindergarten orientation or family reading nights. Gain a new vision for parental involvement and learn how to effectively communicate with parents from all social classes. Consultants assist teachers in personalizing and practicing the word-for-word parent training scripts that target pre-reading, fluency, vocabulary and comprehension. Teachers will know exactly what to say and do in order to share EFFECTIVE reading strategies in parent friendly terms and make the most of your existing parent involvement events.

Getting Parents in the Game

When educators form partnerships with families to support learning, children are more inclined to succeed -- not just in school, but throughout life. Decades of research maintains that when parents are involved participants in their children's education, students are more successful. Parental involvement is essential not just for academic achievement, but it also has a powerful impact on graduation rates, social choices, and weight, nutrition, and physical fitness.

This presentation is designed to help parents understand the current shifts of the Common Core Standards as well as the impact of parental involvement on student success.

Professional development is available to develop and support high quality early childhood programs.

Staff Motivation and Self Esteem
Effective Time Management
Working with Challenging People
Coaching, Guiding and Mentoring

Featured Topics

Coaching and Mentoring

All staff needs support, resources, and guidance. This initial session will link leaders with research to support program improvement through coaching and mentoring. It will provide strategies and tips on the importance of beginning first with relationship building, then collecting and using data to provide non-judgmental coaching mentoring to support teachers in their learning process. This process will produce quality outcomes for programs, professionals, and the greater community.

Developing Effective Teams

An effective team leads to an effective program. Through this workshop participants develop an understanding of how working together effectively will enhance the quality of program services. Working as an individual and together in small groups, participants identify their own personality characteristics and how this impacts working with others. Participants will learn strategies to synergize and come to understand and value the differences of others.

How to Coach a Winning Team

This presentation is specifically designed for administrators and directors. A successful director is like a winning coach. Both encourage people to work together, both inspire people to do their best and both are boosters of morale. A director who carefully selects a team and practices effective coaching skills will create a high quality environment for both children and staff. This session provides 10 strategies for helping your team blossom to their full potential.

Leadership plus High Quality Early Childhood Education Equals Academic Results!

This presentation will provide administrators with answers to the following questions: What is high quality early childhood education and does it make a difference academically for students? As a leader how do I measure my schools early childhood program to ensure that it is high quality? What tool can I use? If you were wondering about these questions and more come to this session.

Leaders Make the Difference!

This session will focus on the importance of supporting new early childhood administrators, principals and directors. Participants will discuss how to use NAEYC leadership and management standards to support program improvement and operations. Leadership skills, learning outcomes, and program evaluation procedures all support the development of high quality programs and are important skills for leaders in the early childhood field.

Passion and Compassion: The Seeds for Change

Leadership and the ability to guide or change are not always welcome or understood. While leaders often make pronouncements and promises, the follow-up is not necessarily successful or yields the desired outcomes. By bringing everyone "onboard" and "to the table," leaders, whether chosen or breaking forth from a group, can and will be more effective if two characteristics are present: passion and compassion.

Personal and Professional Leadership

Sometimes we may choose to lead and in other circumstances we are pushed into leadership. Whether you want to lead or are selected to lead, how you demonstrate your leadership will determine how successful you will be and how successful those who follow you will become. This workshop focuses on developing the critical leadership abilities to lead others effectively. Participants will gain powerful insights to their own leadership strengths and weaknesses and learn how to refine their abilities to become a leader others want to follow.