Luna™ Interactive Projection Camera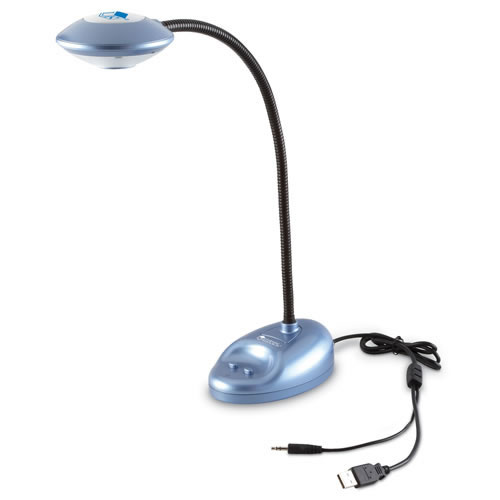 5 years & up. Three technology tools in one, yet so affordable! Easy-to-use digital projection camera is also a web cam and photo/video camera. Great for students' multimedia projects across the curriculum or whole-class demonstration of manipulatives in action, book pages, science models, and more. Document student progress for assessment, then upload files to digital portfolios or share with other educators or parents. Connects via USB port to use with your PC (XP, Vista, Win7) or Mac (OS 10.6 and above) and is compatible with your interactive whiteboard. Boosts students' 21st-century skills and helps you reach beyond traditional teaching methods.

Connects easily to a computer and is compatible with a projector or interactive whiteboard
Does not require the purchase of batteries
Use as a web cam
Take photos/videos to download to your computer or upload to your class website or virtual learning network
Lets you easily zoom in close
Illuminates dark settings or images
Requires no replacement light bulbs
Fosters listening and speaking skills
Is ideal for assessment
Allows for video narration
Designed for busy teachers and even young students
Transition quickly from projecting one object to another
Move with ease -- projects from anywhere in your room when connected to your computer projector!

How to Set Up Your Preschool Technology Learning Center→

Discover tips and resources for setting up your preschool technology learning center with this Insights and Inspirations article.

3.0 MP digital images
Adjustable gooseneck
Auto focus
LED light
Internal microphone
SEN switch (adaptation for students with special needs)
Measures 20"H


Math Activities (Click on the Link):

Science Activities (Click on the Link):

Language Arts Activities (Click on the Link):

Reviews

Overall Rating:

Ms. M

Setting:

Elementary School

Document Camera

October 29, 2015

I work in Special Education. The document camera is a technology tool to help present lessons on the board and when showing a video. I was able to use it for the first time in the white board and my students loved it.

Overall Rating:

KinderKrew

Setting:

Elementary School

This camera is the bomb!

February 5, 2013

My students and I LOVE this product! It is extremely easy to use and the quality is awesome! It takes surprisingly good photos and works amazingly as a web cam. The video quality is great as well as the sound quality. If you need an affordable and functional camera this is the way to go! :)

Overall Rating:

larz

Setting:

Elementary School

Great Product that is inexpensive for school

September 10, 2012

This item is very easy to use and works great with any computer and projector. I was able to set it up and use in about 10 minutes!