Transparent Sand and Water Table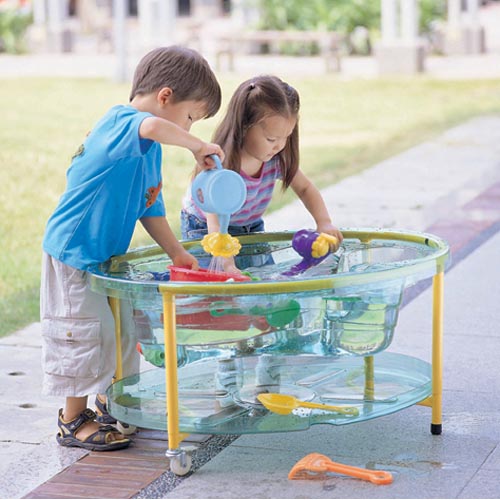 18 months & up. Our clear sand and water table has an adjustable stand (22" to 31 1/2") and wheels are attached to the front for easy transport. Included is a cover to keep the box contents clean. The multi-layer design lets children experience the variation of depths and the screw on water valve allows for easy cleanup. Minor assembly. 34 3/4"L x 25 1/2"W.

Choosing a Sand and Water Table→

Read our Insights and Inspirations article for a list of questions that will help you determine the most important factors you should consider as you choose a sand and water table.
Reviews
Water table
April 18, 2011
This table is great in a smaller space, allows you to see what is in the table and is lightweight making it easy to move, empty and clean.
Overall Rating:
Callie
Role:
Early Childhood Teacher
Great Purchase!
June 16, 2010
Our old water table broke, and we were very particular about choosing a new one. This one has been so impressive! It doesn't leak at all, and our preschoolers absolutely love experimenting with the different depths of the table! It's a great teaching tool, and we couldn't be happier with choosing it! We also love the fact that it's transparent, and so do our kiddos! We change colors of the water with food coloring, add bubbles, and even put ice cubes in it to give our students different experiences...it has been a great learning center in our classroom!
Overall Rating:
AllAboutKids
Location:
Jacksonville, FL
Setting:
Child Care Center
My Favorite Table
June 16, 2010
This is a great table for water play, because it is clear and the children can see the water from across the classroom. They especially love it when we color the water. The bottom of the table has different heights and little ramps that make it more interesting than the typical table. It is also very sturdy and includes a cover. It is easy to adjust to different heights for toddlers or preschoolers.
Overall Rating:
SmallSpuds
Role:
Child Care Director/Owner
Setting:
Child Care Center
Good water table
May 22, 2010
WE recently bought this water table and so far have been really enjoying it. It is a great smaller water table, we can fit 2-3 children around it at one time. It is very sturdy and easily accessible for all ages. My only negatives, the drain does not get everything out without tipping the table to the side and the top is not sealed so it cannot be left outside, we have to store it after every use to keep rain water out of the water table.
Ratings-Only Reviews (Based upon 1 ratings-only review)
Overall Rating:
Performance:
5.00 out of 5
Would Recommend?
Yes: 1 out of 1