Rest Mats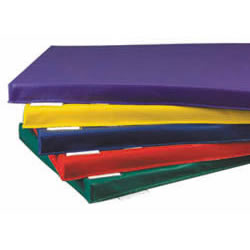 Bright, vivid colors make nap time more appealing! This flame-retardant mat is covered with tough, washable vinyl and filled with 2" flame-retardant urethane foam. This mat meets California TB 117 fire code specifications. Individual name card holders are attached to each mat for ease of identification. Individual mat dimension: 45"L x 23"W x 2" thick.
Reviews
Overall Rating:
HumboldtMimi
Role:
Early Childhood Teacher
Seem shorter in length
December 12, 2012
maybe they have changed this product, but they are about 4 inches shorter than my other mats. Same decent quality and easy to sanitize.
Overall Rating:
billiedaycare
Great
June 14, 2012
I wish you offered a wooden shelf storage with dividers for the flat nap mat w/ wheels. It would be nice to see them offered in the woodland neutral colors. otherwise great product!
Overall Rating:
Mira
Role:
Child Care Director/Owner
great for preschool age
June 20, 2011
Great for ages 2-4 for naps. I have a daycare in my home and the kids love the nap mats.
Overall Rating:
fridayfrogsfcc
Role:
Child Care Director/Owner
Setting:
Child Care Center
comfy!
April 7, 2011
Our preschoolers love these mats, even our toddlers are always trying to sneak onto them! They are comfy and easy to clean which is crucial with our kids who are potty training. My only complaint was that the green was WAY darker than pictured on the website.
Overall Rating:
born2instruct
Role:
Child Care Director/Owner
Setting:
Child Care Center
Great product...
September 6, 2010
I have used these mats for about two years in my family childcare. I just love the way that they have held up to the everyday use. I am ordering more today!!