Uses for Hokki Stools in the Classroom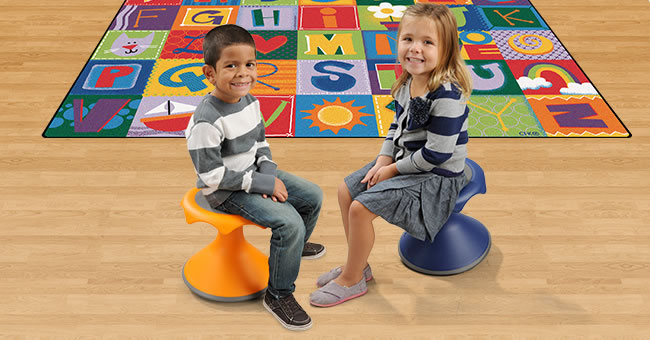 Everyone who tries sitting on a Hokki Stool is amazed by how comfortable, sturdy, and engaging they are, which is why Hokki Stools are becoming a classroom favorite for both teachers and students. The ergonomic stools prove that classroom furniture doesn't have to be traditional to be effective in helping kids learn. Whether you already have several Hokki Stools in your classroom or are considering trying one, these tips on the various ways Hokki Stools can be used in the classroom to create a more engaging learning environment will have you and your students wanting a classroom set!
1. Calm the Wiggles
Being able to move while sitting down helps many children who normally can't sit still or who have special needs stay seated and focus more on learning and completing their assignments.
2. Teach More Effectively
A Hokki Stool is also a great way for teachers to go around the classroom and help students on an individual or small group basis. 'It's lightweight and allows me to be right next to my students instead of kneeling, squatting, bending over, or searching for another chair." -Elementary Teacher
3. Practice Self-Control
Not everyone can afford to purchase a class set of Hokki Stools, but having only a few Hokki Stools for your class can present a variety of learning opportunities for children. Learning to share, waiting for their turn, and working together to problem solve how everyone can have a turn are just a few examples.
4. Improve Posture
The ergonomic stools allow for freedom of movement and provide support for children while also making them engage their core to stay sitting upright.
5. Develop Trunk Control
Children with physical disabilities can also benefit from sitting on Hokki Stools as they work to develop better trunk control. The body of a Hokki Stool is very stable and soft padding prevents slipping, which makes a Hokki Stool a safe seating alternative for some children with special needs.
6. Provide Portable Seating
Hokki Stools are light enough that you can easily move them around the classroom and to other areas in the school. You can even choose to take them outside for an outdoors lesson if you'd like. Portable furniture options will also help students who have trouble focusing concentrate in their other classes.
7. Make Group Time Comfortable
Doing activities as a class often means children have to sit crisscross applesauce on the floor, which can be uncomfortable for everyone if it's for a long period of time or if it's a large group. Using Hokki Stools for group time means everyone gets a comfortable seat that gives them the option of moving while sitting. Hokki Stools are also easier to move and take up less space than traditional classroom chairs.
8. Reward Students
If you only have one or two stools in your classroom, create a special Hokki Stool workstation for students to use if they need a little extra help or as a reward for a good job. This will encourage them to ask for help and strive to be a good student.
Sitting in a chair the majority of the day isn't an easy task, especially for young children. Providing children with safe and comfortable seating that benefits them physically and mentally will help you create a positive and engaging learning environment. Be sure to browse our full selection of Hokki Stools for additional product information and customer reviews.