Want to do something more than the traditional hand turkeys to celebrate Thanksgiving in your classroom? We've got three turkey-themed fine motor activities for you and your students to gobble up! All three festive activities have a craft and activity element and are perfect for serving up holiday fun that is also educational.
What are the 3 Festive Fine Motor Activities for Thanksgiving?
The Hungry Turkey Challenge upcycles an empty plastic bottle and turns it into a turkey. With just paint, wiggly eyes, and construction paper, you can create a game that asks children to use their fine motor skills to pick up pompoms with tweezers or their fingers and put them in the decorated bottle to "feed" the turkey.
Children can further practice their fine motor skills with the Trace and Lace Turkey. Simply cut out a turkey shape from the flap of a cardboard box, decorate it, and add holes around the edge for children to lace.
The Turkey Feathers Game is the third activity and requires a few simple supplies, such as a cardboard box, paint, glue, and construction paper. It challenges children to use their fine motor skills to pick up feathers and place them in the appropriate holes on top of the decorated turkey box.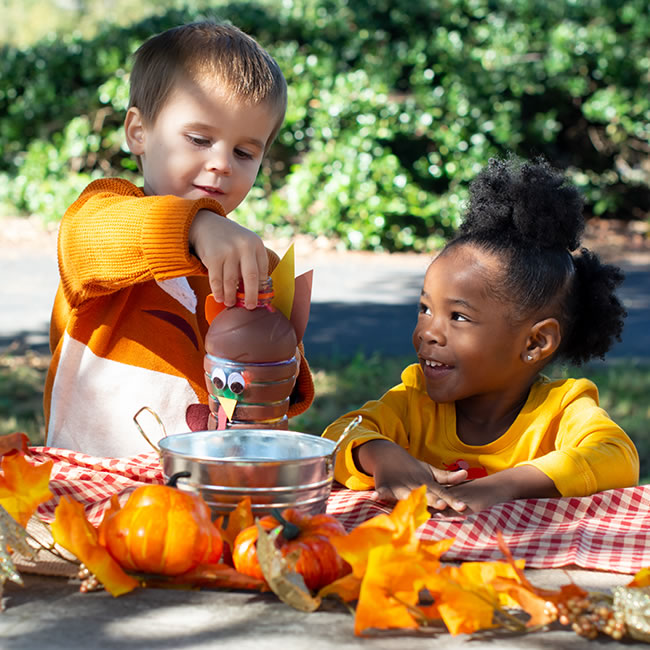 Why is it important to help children develop their fine motor skills?
Improving children's dexterity will help them be able to write, pick up items, hold books, and much more. Finding fun ways for children to develop their fine motor skills is an important part of your job as a caretaker or early childhood teacher. Activities such as the ones included in this article are great ways to bring fine motor practice into the classroom without letting children know that's what they're working on as they play and create.
Download our FREE printable below!