'Tis the season for creativity and cheer with STEAM sleigh launchers! This fun holiday-themed activity provides children with hands-on STEAM experiences to encourage learning through play! The design and creation of each sleigh launcher is a whimsical way to introduce children to the ideas of gravity, force, and a variety of other concepts. The Sleigh Launchers Holiday Activity gives children the chance to decorate and personalize their own paper sleigh and then use their breath to send it soaring into the sky.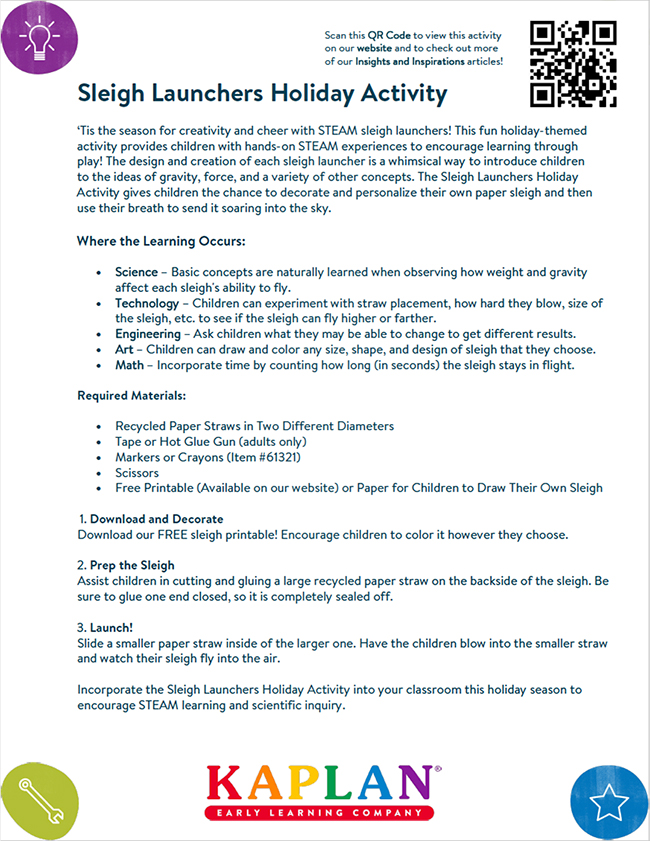 Where the Learning Occurs:
Science – Basic concepts are naturally learned when observing how weight and gravity affect each sleigh's ability to fly.
Technology – Children can experiment with straw placement, how hard they blow, size of the sleigh, etc. to see if the sleigh can fly higher or farther.
Engineering – Ask children what they may be able to change to get different results.
Art – Children can draw and color any size, shape, and design of sleigh that they choose.
Math – Incorporate time by counting how long (in seconds) the sleigh stays in flight.