2019 Holiday Gift Guide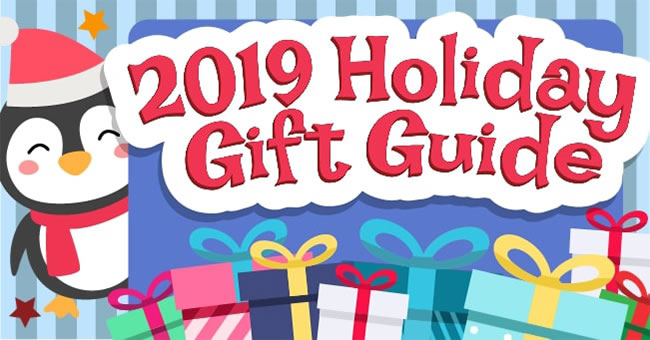 Get into the holiday spirit with Kaplan's 2019 Holiday Gift Guide! From dramatic play to STEM, our top gift picks are perfect for everyone on your list this holiday season. Inspire imaginations and engage young learners with these products that encourage curiosity, boost creativity, and support learning through play!
Enjoy 10% off and free freight on orders $50+*! Use Code JINGLE19 on select Holiday Gift Products. Valid for select, in-stock, holiday gift items only. Standard exclusions apply. Online orders only. Expires 1/31/20.
Fantasy Hoppers® Inflatable Bouncing Pink Unicorn
Perfect for ages 18 months and up, the Fantasy Hopper Unicorn helps children build core muscle strength, coordination, fine and gross motor skills, and balance as they hop, bounce, and play! Children will love bouncing on the brightly colored inflatable unicorn as their imaginations take them to new worlds of playful learning. Featuring a soft grip-able horn and ears, this unicorn is perfect for fun outdoor and indoor play—and with BPA and Phthalate free plastic, it's safe for young adventurers on their next dramatic play exploration.
Farm Hoppers® Inflatable Bouncing Reindeer
Hop into the holidays with the Farm Hopper Reindeer! Perfect for the holiday season, this wintry reindeer helps children develop balance, coordination, motor skills, and core muscle strength as they bounce and play. Children will love this brightly colored inflatable reindeer as they dream up dramatic play explorations and discover new ways to use their imagination! Featuring soft grip-able ears, this magical reindeer is fit for indoor and outdoor use, and safe for children ages 18 months and up. Add some extra learning fun to your holiday season with this playful reindeer!
Plush Safari Jungle Friends Talking Animal Set
Children will go wild for this adorable, jungle-themed plush set! Engage your learner's senses and curiosity with these extra soft jungle creatures. Children will love using their imaginations to create rich dramatic play experiences, enhanced by the jungle animals' fun sounds and colorful tree home. With five animals and the jungle tree carrying case included, the learning possibilities are endless as children explore life in the jungle, and the animals that live there, through play. Press the music note on each animal's belly for a jungle fact surprise—one more way children will interact with these plushies for a valuable learning experience filled with fun! Easily wiped clean with a damp cloth, these animals are extra safe and perfect for children ages 12 months and up.
Plush Barn Friends Talking Animal Set
Explore the barnyard with these extra soft farm animal plushies! Spark children's curiosity and imagination with these interactive barnyard friends. Children will learn about life on the farm through realistic dramatic play, complete with animal sounds, and use their creativity as they discover barnyard fun. With five animals and a barn home carrying case, the opportunities for play are endless! Press the music note on each animal's belly for a fun farm fact and watch as imaginative play unfolds. Easily wiped clean with a damp cloth, these animals are extra safe and perfect for children ages 12 months and up.
Air Fort
Bring imagination and fun to new heights with the Air Fort! This unique spin on a play tent requires only an outlet and a classic box fan to bring an engaging new learning environment to children ages three and up. Just secure the mouth of the tent to the fan using the included tabs, turn the fan on, and watch as your tent comes to life in 30 seconds. Children will love playing in their own special space for endless fun and learning opportunities. Perfect for parties, sleepovers, and dramatic play, the Air Fort comes in an easy-to-carry and compact travel bag so the fun goes wherever you do. Available in multiple colors from ocean blue to pretty in pink, there's an Air Fort for everyone to enjoy (even grownups!)
Sylvie the Sloth
Bring warmth, joy, and comforting snuggles to children this holiday season with Sylvie the Sloth! Children will love cuddling up with Sylvie as her long, ultra-plush arms hold them close, giving them a chance to relax, refocus, and feel comfortable and safe whether they're in the classroom or at home. Sylvie's soft faux fur, large brown eyes, and partially weighted body is built for realism and comfort, making her the perfect companion for children ages three and up as they explore dramatic play and develop valuable social-emotional skills.
Jaxton the Rainbow Dog
Get ready for whimsical fun with Jaxton the Rainbow Dog! This cuddly pup is ready to enchant children with his colorful fluff and ultra-soft plush body encouraging warm snuggles as children dream up fantastic adventures with their new best friend. Jaxton's sparkly eyes, rainbow fur, and soft body is built for comfort, making him the perfect companion for children ages three and up as they explore new worlds with their imagination and develop important social-emotional and creative skills.
Glo Pals Light Up Water Cubes
Light up sensory learning with colorful Glo Pals! Activated when they get wet, these fun and engaging characters are perfect for bath time or water table activities. Children will love being introduced to simple STEM ideas and captivating sensory concepts like sight and touch as they play and learn with their new watery friends. Perfect for young learners ages three and up, Glo Pals contain safe LED lights that turn on and off automatically for hours of sensory learning fun!
Playfoam Pluffle
Mesmerize children for hours on end with this unique sensory tool guaranteed to spark curiosity and inspire creative play! Children ages five and up will love squishing, mixing, and more as the play foam Pluffle comes to life. Watch as the super fluffy and soft Pluffle sticks together under pressure and magically moves, crawls, and expands when the pressure is released. Made from gluten free, non-toxic compounds, Pluffle never dries out, making it perfect for enhancing sensory development and creative play!
Mirari® myStorymaker™ Electronic Story Creator Board
Inspire imagination and unlock the power of storytelling with the Mirari® myStorymaker™! This engaging electronic storytelling board allows children to create over a 100 stories with the press of a button. Children, ages twelve months and up, will love choosing their story's hero, embarking on fantastical adventures, and discovering their character's happy ending all while exercising their creativity. Made from high-quality, natural wood, this storytelling board is the perfect tool for encouraging young children to read, write, and explore the basics of storytelling.
Llama Llama Red Pajama Hardback Book & Plush
Make bedtime a breeze with Llama Llama! This heartwarming book and snuggly plush are the perfect companions for little ones as they get ready for bedtime, settle down for a story, and snuggle up for sweet dreams. Llama Llama's red pajamas and soft fur are perfect for comforting cuddles! Children two years and up will love following along with Llama Llama's story and learn a valuable social-emotional lesson about dealing with worries and how it's okay to need our Mama Llamas sometimes.
LEGO® BOOST Creative Toolbox and Bonus Building Kit
Kickstart STEM explorations with the LEGO® BOOST Creative Toolbox! Children will use this amazing toolbox to build and code interactive, motorized robots, models, and creations from their wildest imaginations. Complete with distance, color, and tilt sensor technologies this set includes over 840 pieces, a LEGO® Move Hub, Interactive Motor, playmat with activity ideas, and more, for endless STEM learning possibilities. Children ages seven to twelve will love developing crucial critical thinking and problem solving skills as they exercise their creativity and watch their STEM inventions come to life!
14" La Newborn® Deluxe Layette Doll Set
Bring new life to dramatic play with this realistic newborn doll! Your child will love pretending to bring their baby home from the hospital, dressing them up for the first time, and playing caretaker to their new friend. With life-like features, realistic details, and movable arms, legs, and head, this doll is the perfect companion for children ages two years and up. Watch as your child enjoys hours of immersive play and warm snuggles, develops crucial social-emotional skills, and exercises their imagination—pretend play just got a lot more fun!
14" Hearts for Hearts Doll - Nyesha
Celebrate a culture of courage and experience new adventures with Nyesha! Straight from Brooklyn, New York, Nyesha is a strong-willed and compassionate doll determined to make a difference in her community. Children will love exploring the city with Nyesha, learning all about her life through her mini-storybook, and dreaming up exciting adventures— the dramatic play possibilities are endless with their new best friend! Dressed in a colorful outfit, posable, and 14" tall, Nyesha is the perfect companion for children six years and up as they develop social-emotional and creative skills, and celebrate diversity through pretend play.
Mobi Peeka® and Zippee Set
Encourage your baby to learn through interactive play! The Peeka® developmental mirror and Zippee pull toy are the perfect tools for fine motor development and exploration. Curious babies will grasp, touch, look, squeeze, squish, and more with these engaging toys that support early cognitive development and sensory experiences. Made of child-safe materials, these toys are perfect for babies ages six months and up as they explore the world around them, build their fine motor skills, and experience crucial early learning through play!
Additional Resources
Be sure to browse our seasonal resources for fun DIY crafts, inspiring activities, and more holiday cheer!
DIY Classroom Holiday Gifts
Polar Express Inspired Lantern
Holiday Sensory Bin Activity
Sleigh Launchers Holiday Activity
Candy Holiday Decor Activity