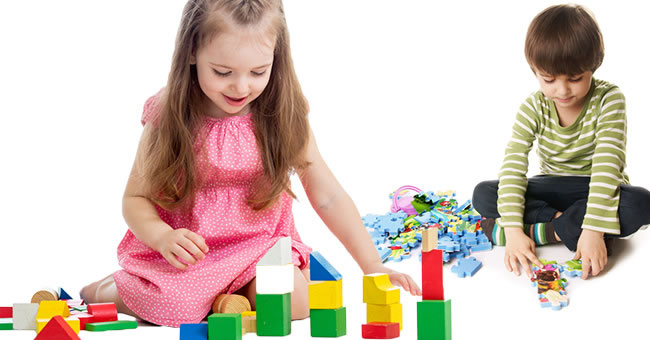 You've probably heard someone make the argument that blocks can be considered a manipulative since they help children develop their fine motor skills. While that is a valid point, blocks should not be categorized as a manipulative. Blocks and manipulatives each serve a unique purpose in the classroom and present varying learning opportunities for children. One cannot replace the other, so it's important that you have both available for children to play with in your classroom.
Blocks
Blocks cover concepts in almost every developmental domain: social and emotional, math, science, and language and literacy. They encourage play and teach children to share and work together, while also teaching them new vocabulary words, shapes, patterns, and numbers. Yes, blocks help children develop fine motor skills, but they have a much more encompassing purpose in the classroom.
Block play includes a variety of accessories and features blocks of various sizes, colors, and materials. Here are a few examples of some great block play items you can include in your classroom or early care environment: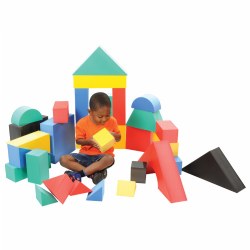 Giant Foam Block Set - 16 Piece Set
$169.95
6 months & up. Bendable, twist-able, stackable blocks made of soft materials make construction sites safer, encourage creative play, and keep blocks from being damaged if children pull or bend them. Each set includes a variety of shapes and sizes (all 3.5" thick) and comes in an assortment of red, blue, yellow, and green.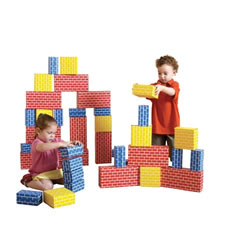 Brick Block Large Building Set - 44 Pieces
Item: 33316
Temporarily Out of Stock
$61.95
2 years & up. These assorted jumbo building blocks are made of premium, heavy-duty cardboard. This 44-piece set is large enough for group play and features three sizes of bricks for constructive imaginative play. Unleash your child's creativity with these lightweight and easy to stack jumbo building blocks. 44-piece set includes: 28 small bricks (6" x 3" x 3"), 8 medium bricks (6" x 6" x 3"), and 8 large bricks (12" x 6" x 3"). Colors include red,…
More »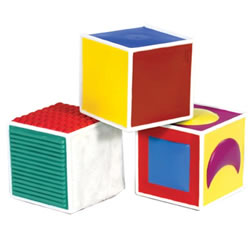 Soft Tactile Blocks - Set of 3
$29.95
3 months & up. Promote hand-eye coordination and tactile skills development with these wonderful Tactile Blocks. This colorful set of blocks has texture for added sensory play with block play. Encourage children to roll the blocks or stack them up. Use these blocks to teach children about shapes and colors. Have them describe the way the textured blocks feel. Each block is 4" square with each side having a different texture, color, shape, and feel. Washable. Colors may vary.
Manipulatives
Manipulatives are fairly specific in the developmental domains they cover and are geared toward teaching individual concepts. The primary purpose of manipulatives in the classroom is to help children develop fine motor skills and learn math concepts. Manipulatives ultimately help children develop the muscle control they need to be able to eat with a fork or hold a pencil and write.
Manipulatives can include tangrams, lacing beads, pegboards, puzzles, LEGO®/Duplo® sets, Magna-Tiles® sets, and similar items. Remember, things that connect should be considered manipulatives—not blocks. Here are a few examples of creative manipulatives that are great for children to play with in the classroom: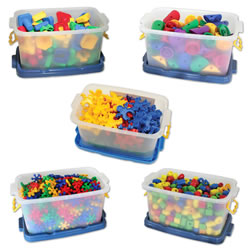 Build and Learn Kit
$159.95
3 years & up. This Build and Learn Kit features of five sets that support the development of hand-eye coordination and fine motor skills through lacing, connecting, matching, and snapping activities. Each set of manipulatives are stored in a sturdy, stackable plastic container that measures 12"L x 7"W x 6"H. Kits include: Nuts and Bolts (72 Pieces), Magic Connectors (90 Pieces), Interlocking People (120 Pieces), Star Puzzle (480 Pieces), and Jumbo Lacing Beads (360 Pieces).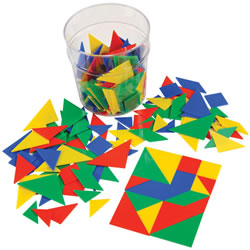 Tangrams Geometric Shapes with Storage Jar
$37.95
Grades K - 5. These geometric shapes will stimulate every child's imagination. It provides a fun way for children to explore geometry,shapes, colors, patterns, and designs. Tangrams come in 30 sets of 7 pieces (Total of 210 pieces) of bright colors and are made of durable, washable plastic made to last for many years of play and learning.
So, What's the Verdict?
In short, blocks help children learn and develop a variety of skills, including fine motor development, while manipulatives play a more focused role in helping children develop their fine motor skills. Manipulatives can be used as supplements to enhance the block center, but it's important that centers have actual blocks for children to play with. Be sure to encourage children to play with items from both categories to ensure that children gain all of the skills they need.
Additional Resources