Conscious Discipline is a comprehensive social-emotional and classroom management program that uses everyday life events to teach children and adults self-control, conflict resolution, character development and social skills.
Conscious Discipline is a longtime leader in integrating classroom management and social-emotional learning. It utilizes everyday events rather than an external curriculum, and addresses the adult's emotional intelligence as well as the child's. Learn to respond to daily conflict in a way that transforms it into an opportunity to teach critical life skills, and watch every aspect of your classroom life improve!
About the Author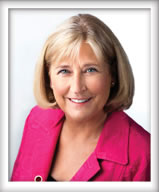 Becky Bailey
Becky A. Bailey, Ph.D., is an award-winning author, renowned teacher and internationally recognized expert in childhood education and developmental psychology. Her workshops touch thousands of lives each year, and her top selling book titles have over 400,000 copies in circulation.
Dr. Bailey is the founder of Loving Guidance, Inc., a company dedicated to creating positive environments for children, families, schools and businesses. She is also the developer of the Conscious Discipline program.