The Inspire-2 is technology as it was meant to be in the Early Childhood classroom. There are no hidden costs and the Kaplan Early Learning Company technology team will make sure you get the most from your new interactive table.
The Hardware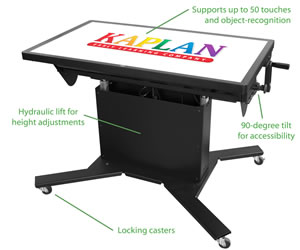 The Screen: A 42" HD touch-enabled screen that recognizes 50 individual touches.
The Stand: The metal stand has three main features - the wheels, the lift, and the tilt.

Wheels: The four wheels allow the table to be easily moved around a classroom or to be shared by classrooms. Two opposing wheels have locking casters to keep it where you want it. The Inspire fits through any standard doorway enabling it to be shared by everyone in your daycare, preschool or elementary school.
Lift: The lift is a handle that can be easily turned to raise and lower the screen. This can be done by one adult. At its lowest point, the surface of screen in the horizontal position is 27" from the floor. It can lift to 33" from the floor at its highest horizontal point.
Tilt: The tilt feature uses a spring-loaded peg to allow the screen to lock in 5 different positions including completely horizontal and vertical. From the horizontal position, it can then tilt to 22, 45, 67 & 90 degrees.
The Software
Operating System: Windows® 8.1 Pro
Activities:

Ten (10) Kaplan-exclusive exploration-based activities to encourage open-ended play. Learn more about these on the "The Explorations" tab.
Our Shine-2 Software Suite with seven (7) activities intended for circle time or collaborative play. These activities use seven common early childhood themes to build upon early childhood mathematical concepts including sorting, graphing, counting, measuring, and working with patterns.
Setup & Support
Your new interactive table includes FREE shipping, installation and training. Once you've completed your purchase, our educational technology team will contact you to determine the best time for installation and training. This includes a complete setup of your technology as well as access to a video training library. Our goal is to make sure you are comfortable with your new technology, and ready to use it in your classroom and building!