Your trusted partner for POP VPK success!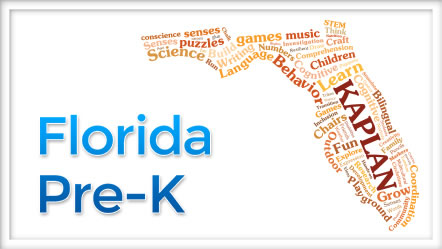 Kaplan is proud to extend its long-standing tradition of supporting you -- Florida's early childhood professionals and caregivers – with this website, which is designed to help you create quality learning environments for young children. With the click of a button, you will find the information and resources you need to design and operate a high quality pre-kindergarten program for young children and their families in your area.
Participation in Florida's Voluntary Pre-Kindergarten Program insures that children are ready for a great kindergarten year and lays the foundation for future academic success. We look forward to playing a role in that success story!
Learn Every Day™ and Nemours® BrightStart! Super Set

Using a multisensory, strength based approach the Learn Every Day™ and Nemours® Super Set combines the effectiveness of two highly regarded early childhood programs into an economical must have resource! Covering all domains of learning, with an additional focus on emergent literacy skills the LED/NBS super set is appropriate for full day or half day programs. Super Set includes: Learn Every Day: The Preschool Curriculum (3 volume set), Learn Every Day™ Program Guide, Nemours® BrightStart! Level One Lesson Plan kit, Nemours® BrightStart! A Parent's Guide to Reading Readiness (20 copies) Supplemental materials and manipulatives are available for additional purchase.

Beyond Centers & Circletime Curriculum

The Beyond Centers and Circle Time® Curriculum is designed to provide a blend between a developmental and a didactic approach to working with young children. This theme series provides teachers with lesson ideas that will allow opportunities to offer direct information while allowing children to experiment and explore materials in order to create their own knowledge. The Beyond Centers and Circle Time® Curriculum theme series is written to offer support to educators and parents who wish to maintain a balance between supporting their child's acquisition of skills and knowledge that will prepare him/her for later school success and the joys and delights of experiencing a playful childhood.

Links To Literacy Curriculum

Links To Literacy is a total learning system based on the research of professional educators. Every lesson is designed to achieve specific learning objectives. Both new and experienced teachers will find this broad-based and adaptable curriculum set easy to use and it will help them meet their goals in preparing children for school.

Learn Every Day and Nemours BrightStart! Super Kit for FL VPK

The webinar training for the Learn Every Day Nemours BrightStart! Super Set is a series of 3 sessions. Attendees will receive a certificate upon the completion of each webinar which states the session attended.

View the recorded Webinars:

Session One – Overview - View Webinar
Session Two – Integrating Nemours BrightStart into your day - View Webinar
Session Three – Integrating the curriculum into your classroom - View Webinar

Links to Literacy for VPK Providers

Interagency Partners for VPK Implementation

Professional Associations

Additional Resources

Gold Seal Accrediting Bodies

For a list of all Gold Seal accrediting bodies, visit: this site

Some of the preceding links are external to Kaplan Early Learning Company's web site. Kaplan Early Learning Company cannot attest to the accuracy of information provided by these sites. Linking to a web site does not constitute an endorsement by Kaplan Early Learning Company, or its employees, of the sponsors of the site or the products presented on the site.

Mouse over an area to see your sales representive.